Adventureland Park is bustling with activity this spring as crews are busy getting the theme park ready for the upcoming season. There will be more for guests to see in 2023. Adventureland continues its multi-year, multi-million dollar refurbishment project, leading up to the park's 50th birthday celebration in 2024. From two thrilling new rides to a redesigned front gate, guests will notice an elevated experience with a fresh new look.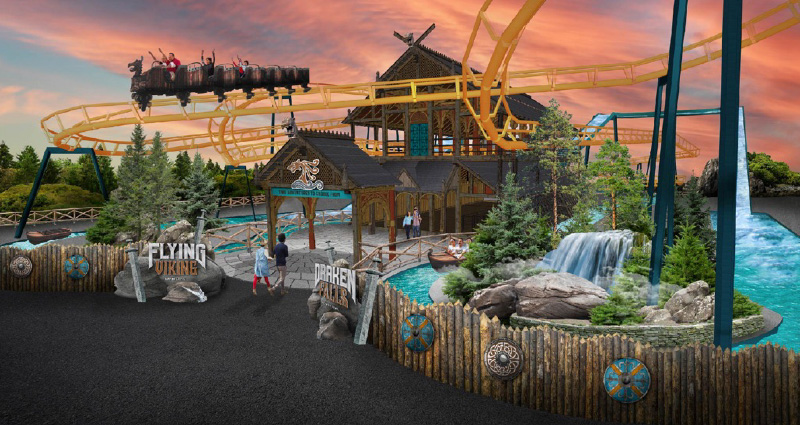 Flying Viking and Draken Falls
The highlight of the 2023 season is the return of the log ride, Draken Falls. The beloved ride was a staple at the park from opening day in 1974 through Labor Day 2015. It was replaced in 2016 by the Monster roller coaster. Working with ride manufacturer Zamperla, Adventureland has been able to bring the beloved ride back better than ever. The ride will end with the same 40 foot drop, but will also include an aerial panoramic turnaround and an airtime hill.
The new log ride will be even better with the addition of Adventureland's seventh roller coaster, Flying Viking. The coaster will be intertwined with the log ride, adding even more thrill to both rides. Climbing to a height of 50 feet, this coaster is perfect for Viking invaders from young kids to adults.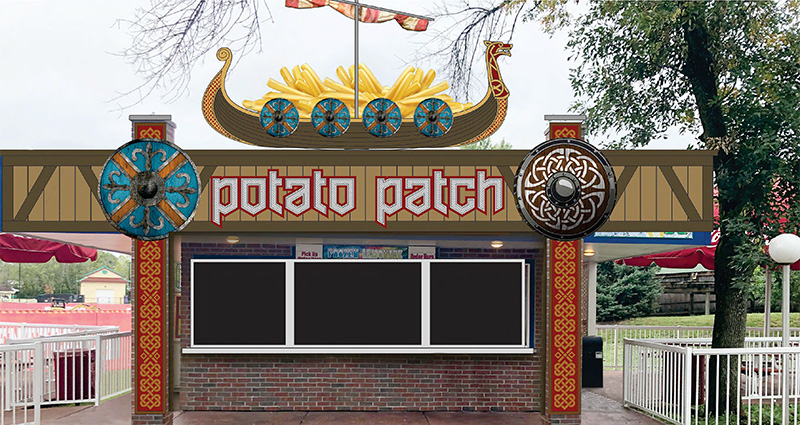 Potato Patch
Hungry Vikings looking for something to eat will just need to look for the boat full of fries! The new Potato Patch will serve mouth watering fresh-cut French fries with a choice of topping including bacon and cheese. The new stand will feature Viking designs along with a giant Viking ship full of fries on the roof. Potato Patch is a beloved food stand at Adventureland's sister park Kennywood in Pittsburgh. The original Potato Patch is celebrating its 50th birthday this season.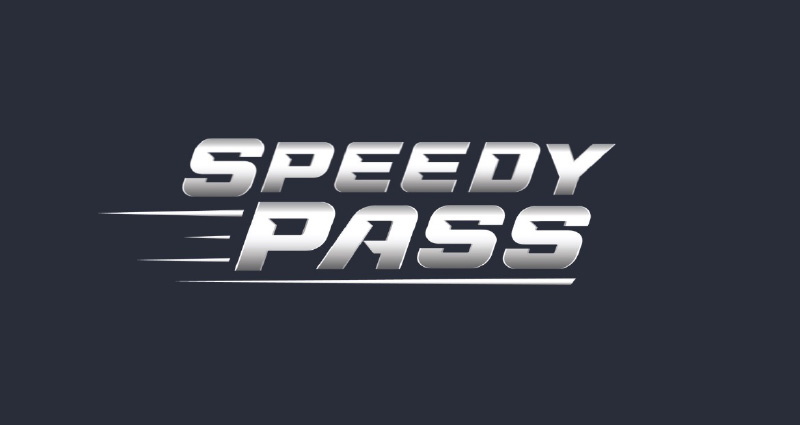 Speedy Pass
Guests joining the Viking invasion can get to the rides quicker using Adventureland's all new Speedy Pass. Seven of the park's most popular rides will be included in the new service that can cut your wait time by up to 90%. Speedy Pass will be available using a smartphone. Guests can scan a QR code and select from different options, including a pay per ride. Ride included in the new Speedy Pass program are Draken Falls, Flying Viking, Monster, Phoenix, Sidewinder, Saw Mill Splash, and Underground.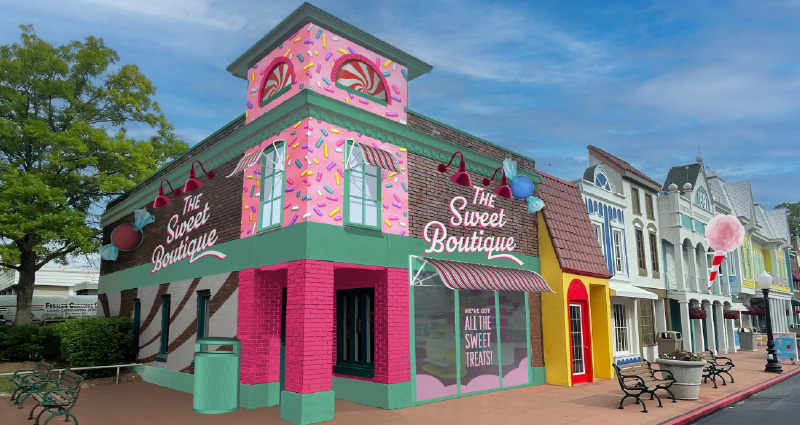 Sweet Boutique
Looking for something sweet? The Sweet Boutique is the place to be. With something to satisfy any sweet tooth, this new shop will be a colorful and exciting addition to Main Street. Featuring the most popular candy along with other sweet confections, this will be a must stop during every trip to the park.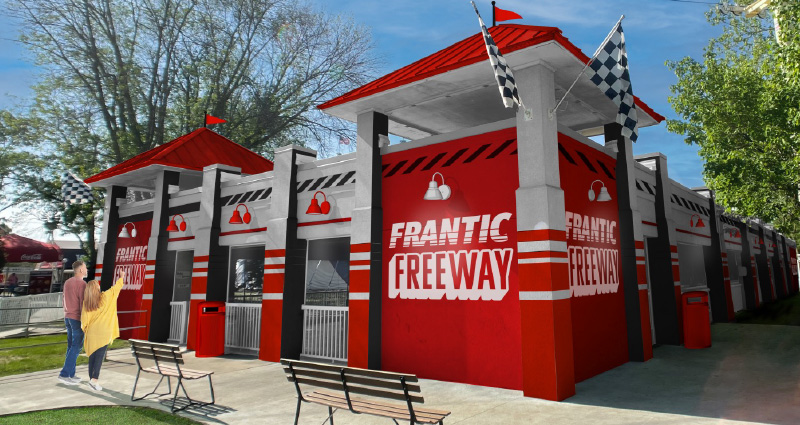 Other Park Improvements
The beloved Frantic Freeway bumper car building is also seeing a facelift. The former gray and green building now boasts a bright white and red look. Along with fresh coats of paint, Frantic Freeway and other attractions will boast new signage. Honoring America's space legacy, the Space Shot is getting an all new patriotic look. With a fresh coat of paint, the park's second tallest ride now boasts a stunning red, white, and blue paint scheme. The top of the tower will also feature a new sign including the park's "A" icon. Launch off to space this summer on this newly refurbished ride.
The park has even more exciting surprises for guests when it opens on Saturday, May 6. It's going to be an exciting summer to visit Adventureland with a full line up of events including the Summer Concert Series, Celebrate America, Kids Fest, Oktoberfest, and Phantom Fall Fest.

The best way to experience all the fun, and take in all that's new is with an Adventureland Season Pass. For a limited time, the park is offering $30 off tickets and Gold Season Passes.